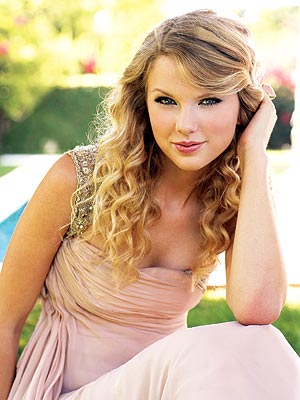 1. Word on the street is Lady Gaga is the cover girl for Vanity Fair's September issue. Oh, the possibilities...
2. Taylor Swift is the new face of Cover Girl cosmetics. She'll appear in TV, print and in-store advertising. She joins Rihanna, Drew Barrymore, Ellen Degeneres, Queen Latifah and Dania Ramirez. Smart move on Cover Girl's part; people will buy anything from this girl. She's like a Girl Scout.
3. Mandy Moore may be as sweet as pie, but she is not about to rough it. The actress, who is filming in New Orleans with the rest of the "Love, Wedding, Marriage" cast, was moved to the Ritz Carlton after she complained about the hotel they had to stay in. Kellan Lutz, Jessica Szohr, Jane Seymour and James Brolin stayed put though. So now Moore looks a bit like a diva.
4. Diane Kruger who has looked perfect every year she has attended the Costume Institute Gala, will be attending tonight's event with Calvin Klein's Francisco Cota. She's also the face of Calvin Klein's newest fragrance, Calvin Klein Beauty. Funny, I thought she'd be tapped to do something for Chanel...
5. RIP M2. The nightclub's was shut down last week for allowing the sale of marijuana and narcotics and now their liquor license has been revoked indefinitely. Clubs here are like Hydras; cut down one, two more come up.
6. When news broke out last week that Gabriel Aubrey broke up with Halle Berry, many people asked, "who breaks up with Halle Berry." According to People magazine, no one. The new story is Halle Berry "kicked him out months ago because he wasn't pulling his weight in the relationship and she wanted to move on." Does it matter?
7. Speaking of the Aubrey/Berry breakup, Page Six is in a tizzy because they weren't the first people to announce the Halle Berry/Gabriel Aubrey break-up. But they totally would have been winners of the gossip shuffle if the people at 42West weren't such punks! Calling the publicity agency a "school for liars", they even brought up that time in 1992 (yep, they went all the way back) when 42West initially denied the whole Woody Allen, Soon-Yi drama. Oh no, the injustice of it all. Let it go Page Six, let it go…
8. It looks like Chelsea Clinton is embracing her inner Bridezilla; she told her dad he had to drop 15 lbs before walking her down the aisle. And President Clinton is already half way towards that goal! The things we do for family.
9. In sad news, Jean-Louis Dumas, CEO at Hermes International from 1938 till his retirement in 2006, passed away Saturday morning at the age of 72. He is survived by his two children.